Building a Quadrotor Drone aerial robot at HBCSE.
Remember the quadrotor in the Bollywood movie, Three Idiots(2009) ?
Sat. 18 Feb. 2012 afternoon.
About 14:40.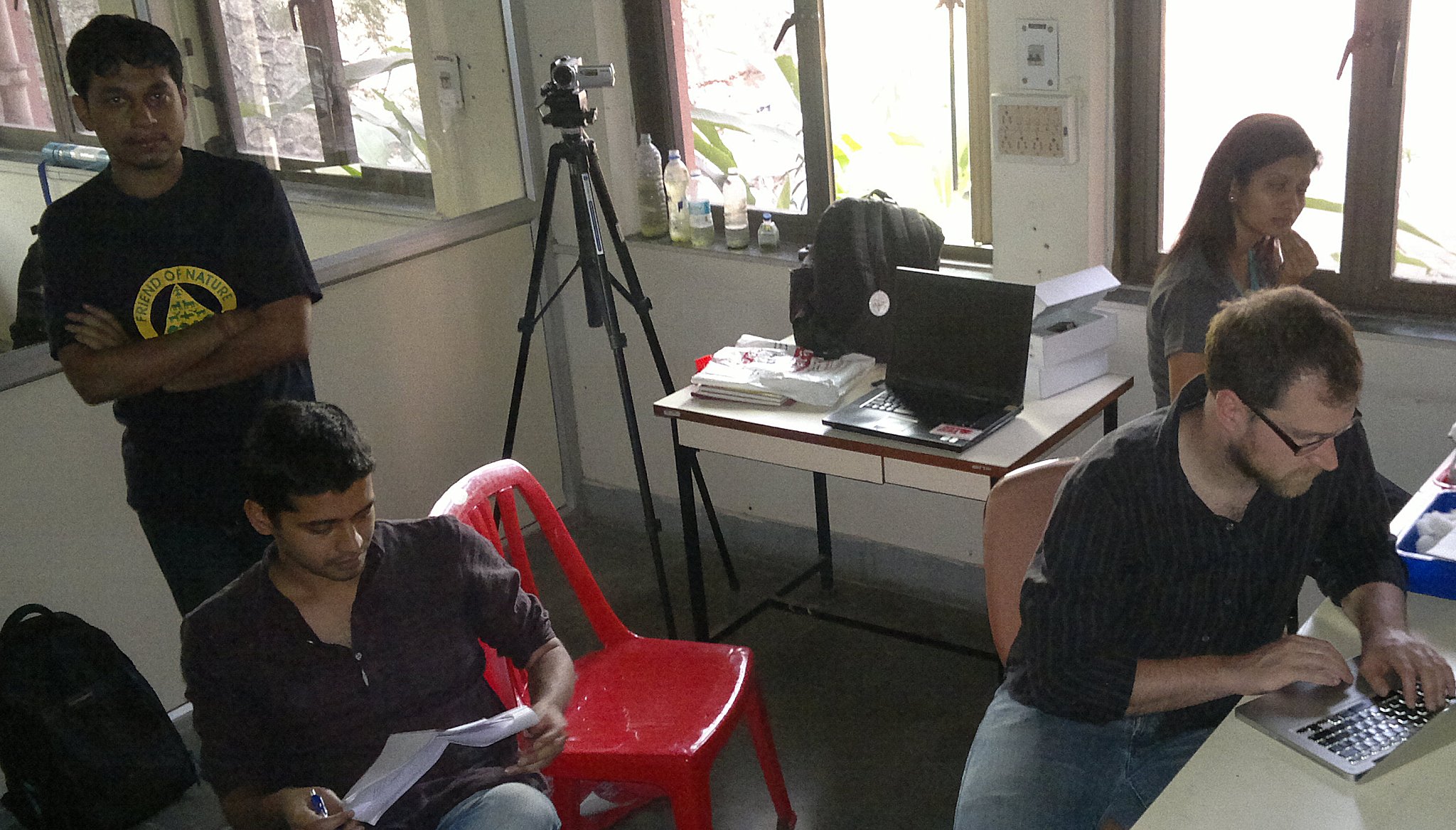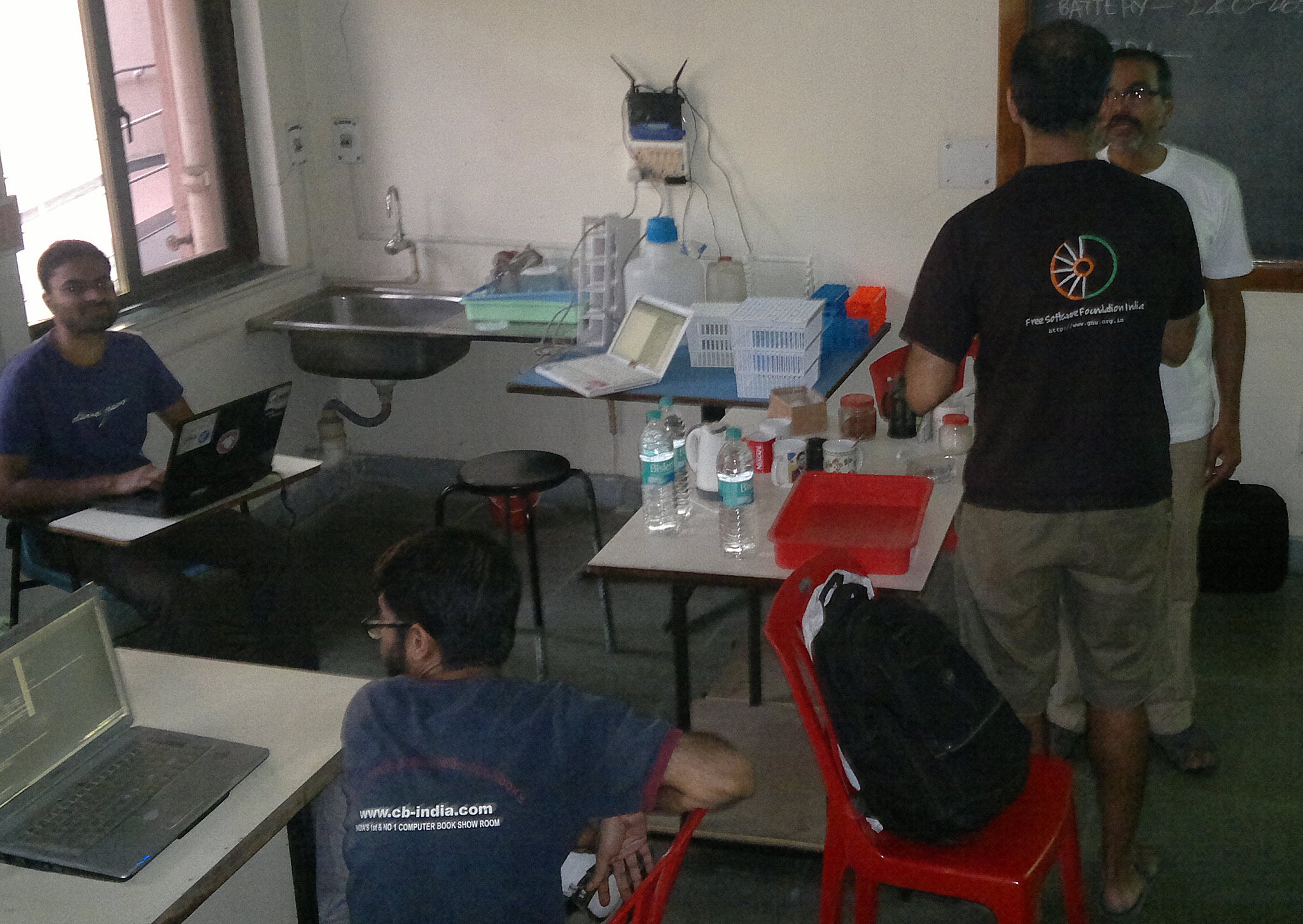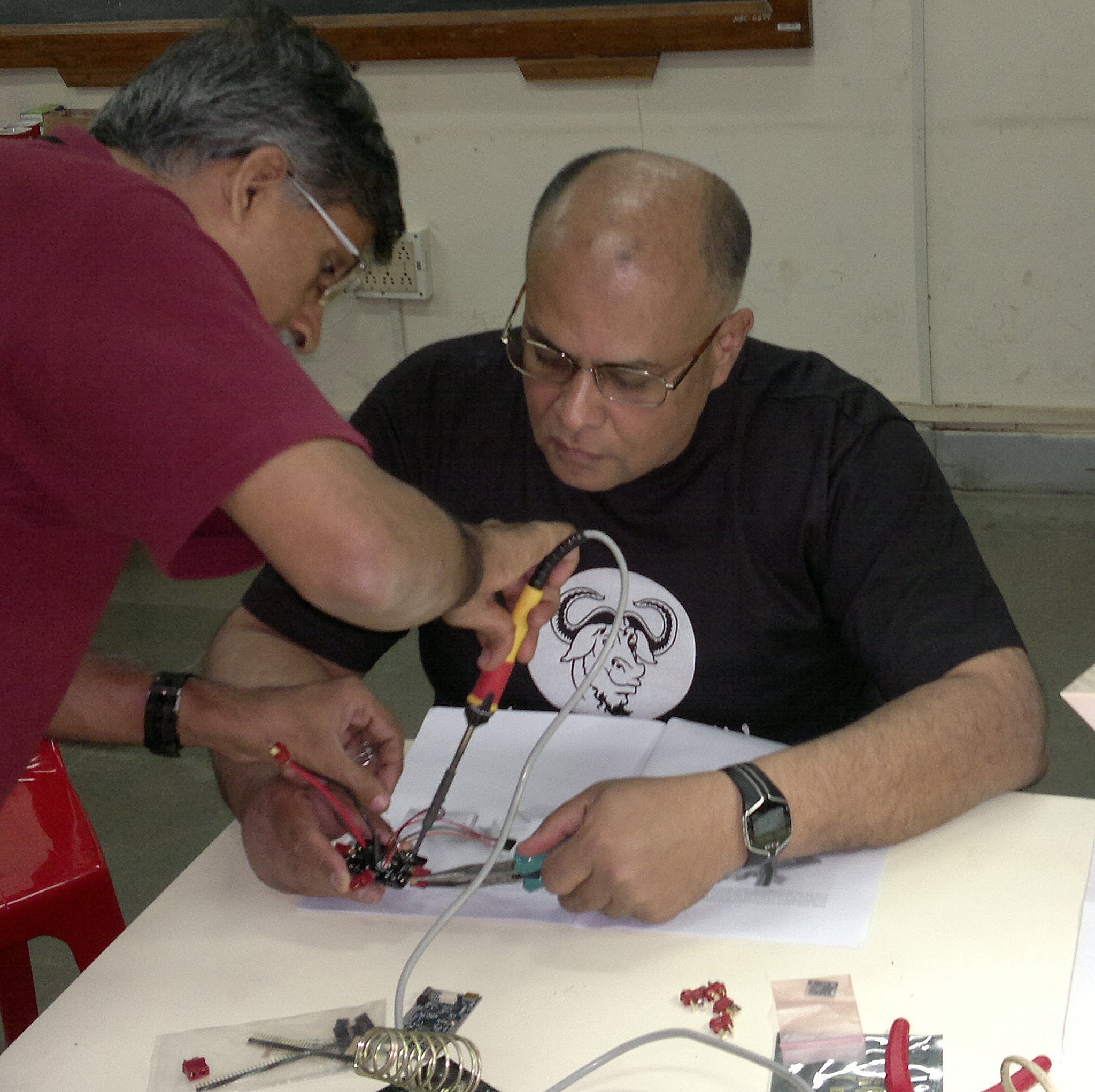 Jude Terence D'souza and Ram Rao work on getting the quadcopter Power Distribution Board (PDB).
JTD is soldering an Ultraplug female Dean's receptacle connector, while Ram holds it in place with a pair of nose pliers.

The PDB distributes the power from the flight battery to four Electronic Speed Controller (ESC) to power the quad's motors.
These are 20A programmable brushless ESCs, each of which can deliver a continuous current of 20A to its motor and bursts of 25A on demand.
Can support motor speeds of upto 210,000 rpm (2 poles), 70,000 rpm (6 poles) and 35,000 rpm (12 poles).

Each speed controller contains a voltage regulator and onboard microprocessor. It can start in one of three modes: Normal, Soft and Super-soft.
For controlling the copter, it is important that power delivery be smooth, linear and precise in response to throttle, which can be programmed.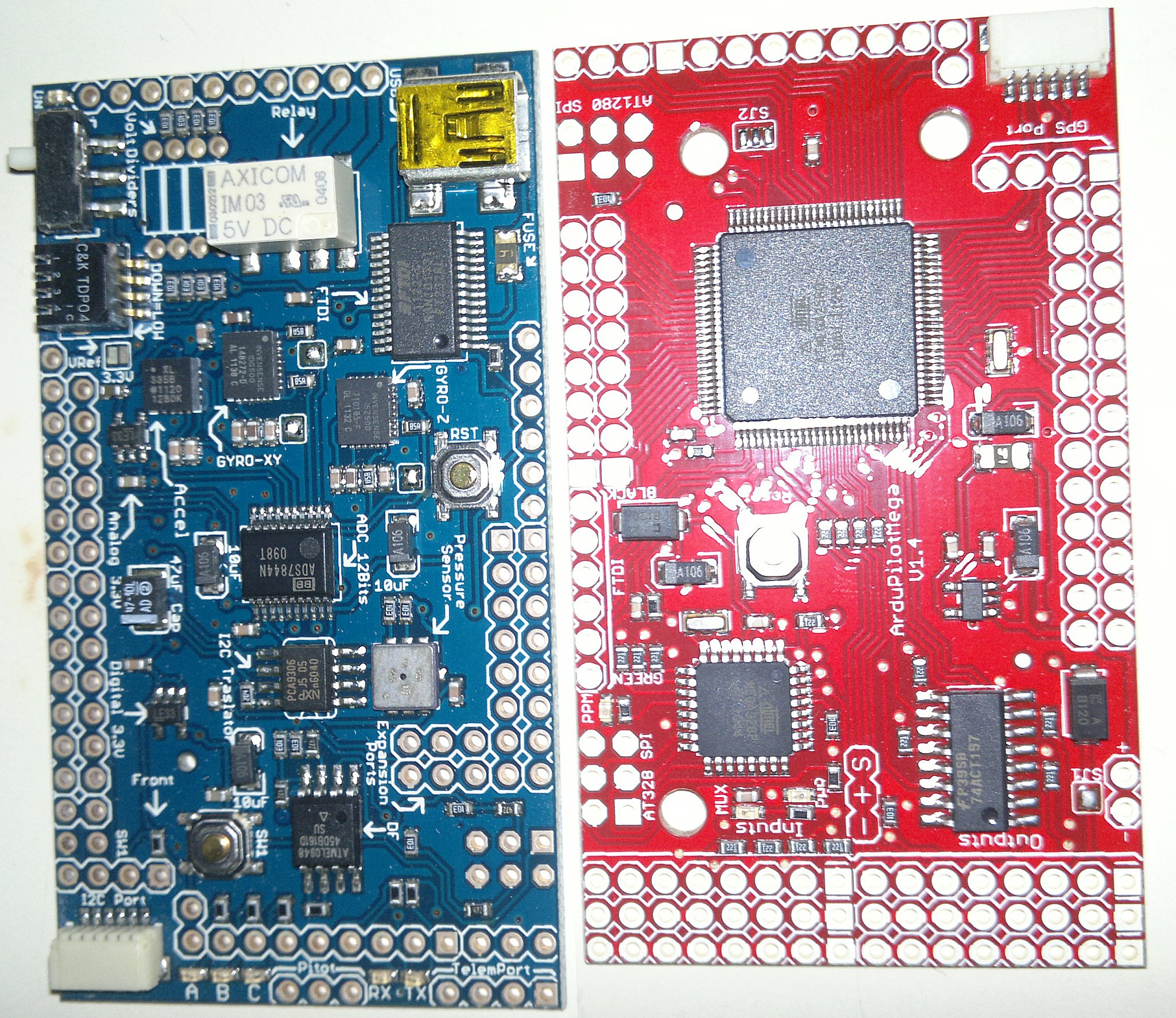 Red PCB
ArduPilot Mega 2560: Arduino-compatible autopilot board. Has two 8-bit low-power AVR RISC-based microcontrollers.

ATmega 2560 CPU -- an 8-bit AVR RISC-based microcontroller.
Has 256KB ISP flash memory, 8KB SRAM, 4KB EEPROM, 86 GPIO lines, 32 GP working registers, real time counter, 6 timer/counters with compare modes, PWM, 4 USARTs, byte oriented 2-wire serial interface, 16-channel 10-bit A/D converter, and a JTAG interface for on-chip debugging. The device achieves a throughput of 16 MIPS at 16 MHz and operates from 4.5-5.5 volts.
Has several powerful single clock cycle instructions, to give a throughput approaching 1 MIPS per MHz.


ATmega328P CPU. This has 32KB ISP flash memory with read-while-write cap., 1KB EEPROM, 2KB SRAM, 23 GPIO lines, 32 GP working registers, 3 timer/counters with compare modes, internal and external interrupts, serial programmable USART, a byte-oriented 2-wire serial interface, SPI serial port, a 6-channel 10-bit A/D converter (8-channels in TQFP and QFN/MLF packages), programmable watchdog timer with internal oscillator, and five software selectable power saving modes.
Requires an Oilpan IMU and GPS (Blue board) unit to create a functioning Unmanned Aerial Vehicle (UAV).

The autopilot handles both the stabilization and navigation, eliminating the need for a separate stabilization system.
Also supports a "fly-by-wire" mode that can stabilize the aircraft when flying under manual RC control.

We only had to solder on an included 3x16 connector.
The RC interface firmware is already loaded.
However we had to download the autopilot software and burn it onto the board.

Can be programmed with the Arduino IDE.


Blue PCB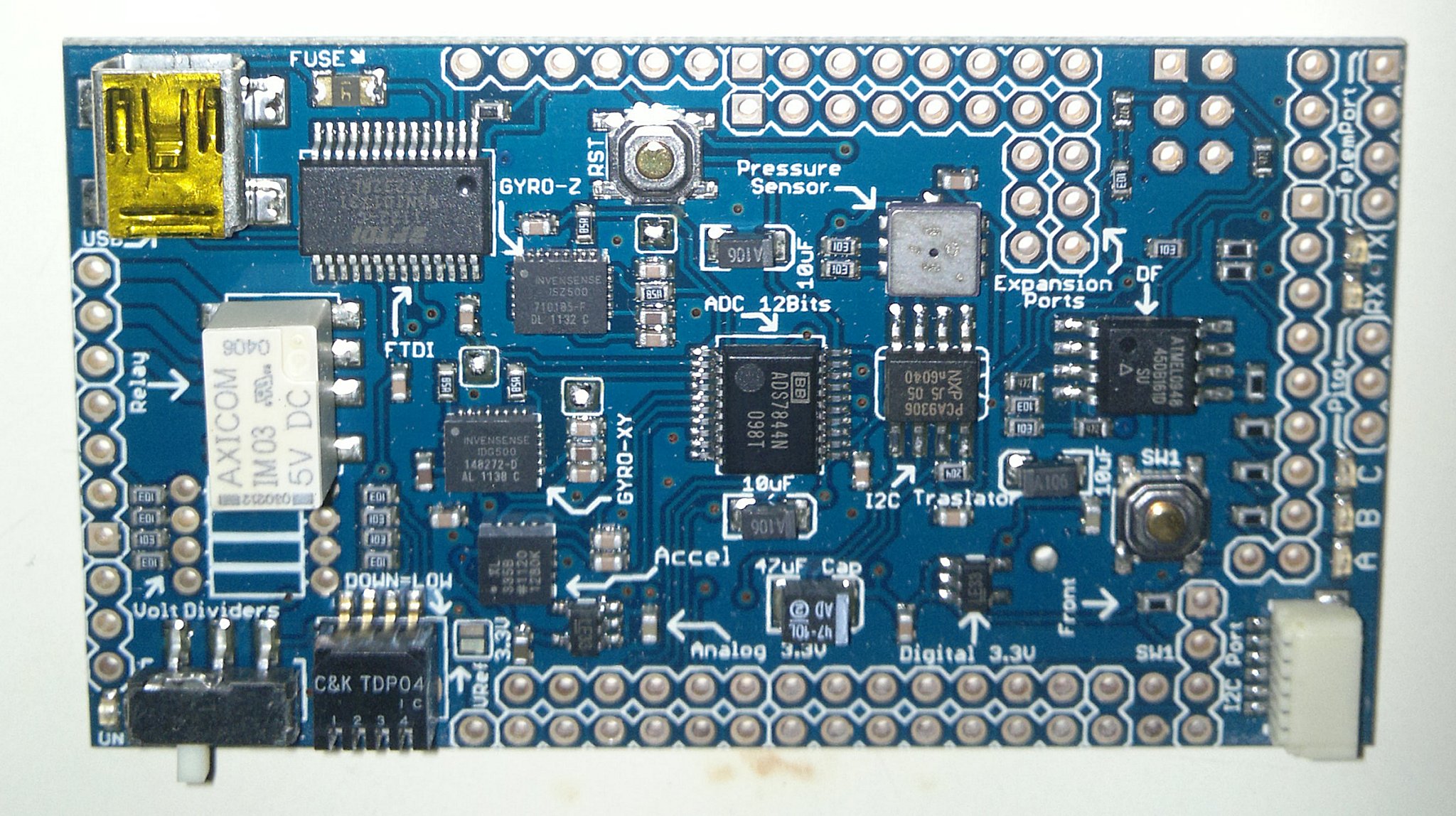 ArduPilot Mega IMU(inertial measurement unit) Shield (a.k.a Oil Pan). Designed to fit neatly on the ArduPilot Mega board.
Full 6DOF which contains a large array of sensors needed for UAV and other robotics apps including 3 axis angular rotation and acceleration sensors, Bosch absolute pressure and temperature sensor for accurate altitude. 12-bit ADC for Gyro/Accel/Airspeed readings.
Atmel 450B161D 16-Megabit Serial DataFlash data logger chip for data logging.
Also has a relay switch for triggering cameras, light and payloads.
We only had to solder the headers.

Motor, Propeller and Spinner
The team chose the stronger 880Kv motor with EPP (expanded polypropylene) propellers.
The 880Kv motor is capable of 880,000 rpm per volt. It weighs 72 g.
It is meant to drive a 12x45 propeller. While drawing its full 20A current, it dissipates 210W and produces 1.38 kg of thrust.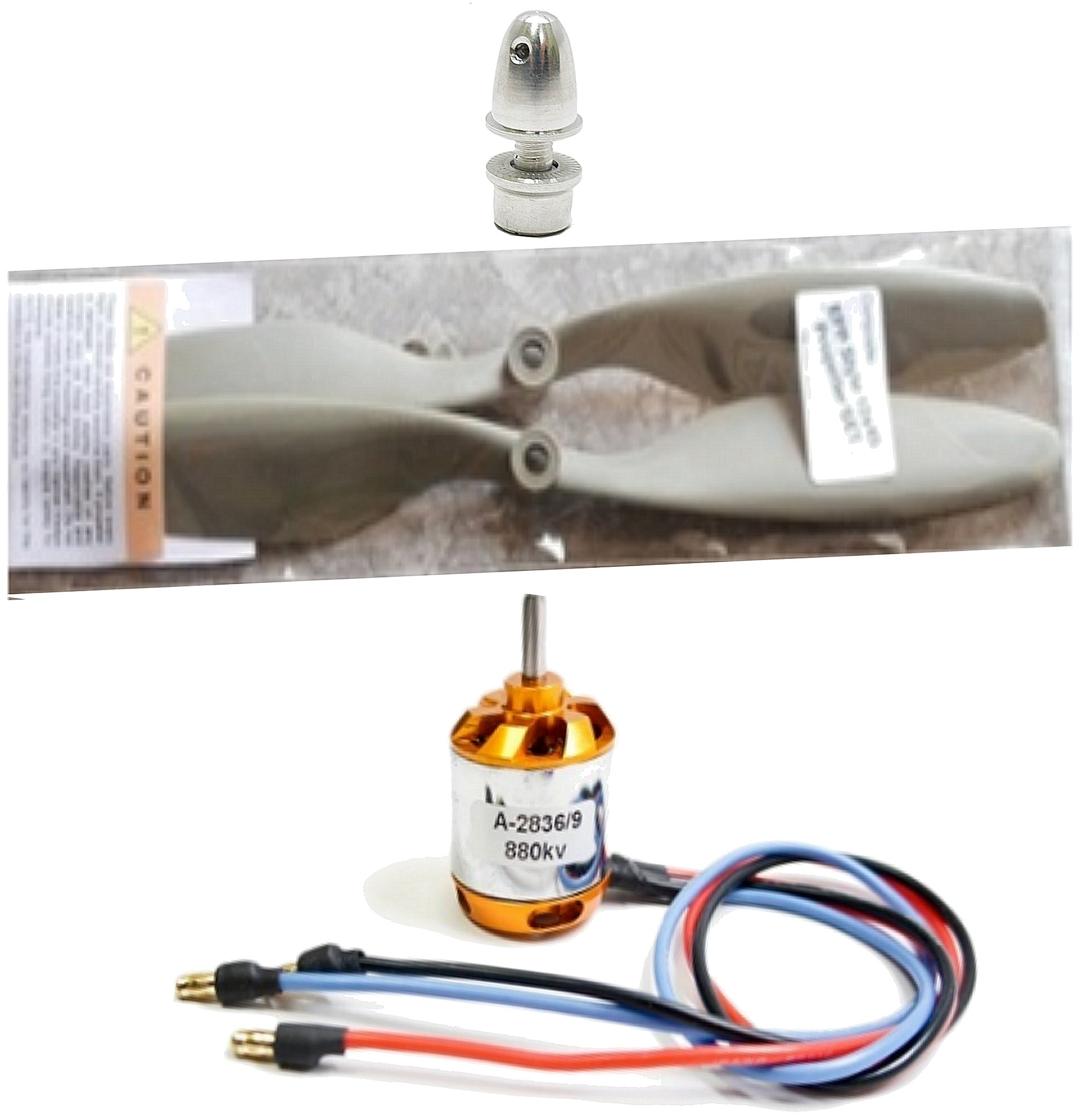 Composite EPP Style propeller set.
Each packet contains one Pusher and one Puller, EPP 12x45 Style. and adapter rings for different size shafts.


Software

Food for thought
Can a multi-copter carry a human being?
Yes. There is an ultralight multicopter called e-volo built by a German, Stephan Wolf. He has a startup called Syntern GmbH at Karlsruhe, Germany.




The e-volo has sixteen rotors -- so a hexadeca-copter !
Flight time can last from 10-30 minutes, depending on payload and the capacity of its lithium batteries.
Its empty weight including batteries is 80 kg.
Should anything go wrong, e-volo can still safely land even if up to four of its sixteen motors should fail.

Like our quad-copter, this has sixteen rotors which lift and balance the device on all three axes by using .
Multiple separate and mutually monitoring onboard computers independently control the rpm of each of the sixteen motors.
They lift and balance the craft with fully automated attitude and directional control. Whether during vertical takeoff, in flight, or landing, the pilot can ignore minimum speed, stall, fuel mixture control, pitch control or many of the other things that challenge conventional helos.


As of 14th Feb. 2012, a new US federal law, signed by Pres. Barack Obama, compels the FAA to allow drones to be used for all sorts of commercial endeavors — from selling real estate and dusting crops, to monitoring oil spills and wildlife, even shooting Hollywood films.
Local police and emergency services will also be free to send up their own drones.
As drones proliferate, US residents will need to decide how much surveillance they would be comfortable with.