Chevrolet Staghound T-17E2 (AA)


The hulks of four 1942 Chevrolet T17E2 Staghound armored cars have been deteriorating outside VJTI Matunga for over three and a half decades.

When I was a student in the early 1970s, VJTI stood for Victoria Jubilee Technical Institute. Since 1997, it's Veermata Jijabai Technical Institute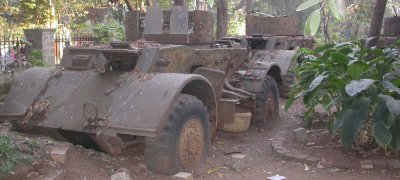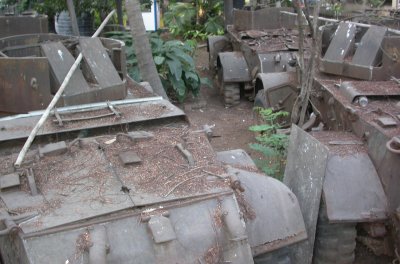 Manufactured by Chevrolet USA for British use, the Chevrolet Staghound first entered combat in Italy in 1943.
The Indian Army (under the English) had 4 armored divisions that saw action in Burma in World-War-2.
Transferred to Pakistan after the partition, some of these Staghounds were probably recaptured during the 1971 war.

A total of 2,844 T-17E1s were built, however only 789 T-17E2s were built of which four are at VJTI !

It is rumored that, Pakistani armor captured during the 1971 Indo-Pak war, were distributed across the country. It may just well have been around that time, that these four Staghound anti-aircraft armored cars found their way to VJTI. If anyone knows any more please corroborate or refute my findings.

My untrained eye, picked out what I thought were US Army markings on the vehicles.
Here is the left front of one of the T-17E2 AA s.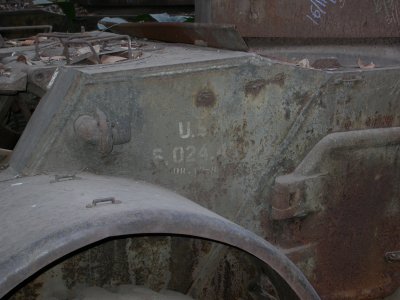 And here is a close-up of the marking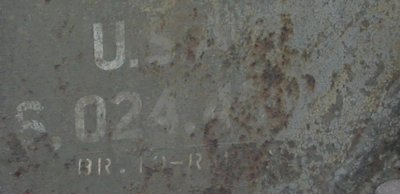 The Staghound was designed to be a long-range reconnaissance and convoy escort vehicle. It accomodated a crew of four.
Originally intended for desert use, the 14-ton Staghound was large and heavy. People who have driven the Stags in combat found that there was no comparable vehicle well into the 1970s to match the Stag's quality of ride and ease of control.



Propulsion


The Staghound was propelled by two naturally-aspirated,
inline 6-cylinder, 4,425 cc GMC-270 carbureted water-cooled OHV engines,
each of which developed 97 bhp @ 3000 rpm.



I looked into the engine bay under one Staghound's engine covers. The twin engines were rusty but still there!



Each engine drove its own four-speed GM Hydramatic automatic transmission.

Both transmissions drove a central differential connected to the front and rear axles through a part-time 4x4 two-speed transfer case.
The driver could start or shut down any of the two engines, "on-the-fly" and drive the vehicle on any one or both the engines, as required!
Despite being automatic the staghound could be tow started if the on-board batteries failed.

Its fuel tanks could hold 623 litres of petrol.

Speed and Economy
The Staghound's top speed was 90 km/h with a range of 724 km (112gals of fuel in the tanks).



Tires


The Staghound's 14.00-20 tires come up to chest height and the roof is as tall as my head. It could be driven through water 3-feet deep.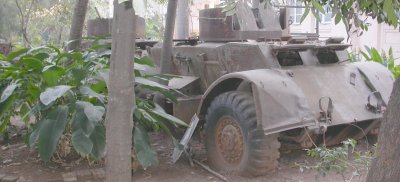 The armored cars at VJTI still wear WW2 14.00-20 COMBAT, run-flat tires manufactured by USRC (United States Rubber Co.)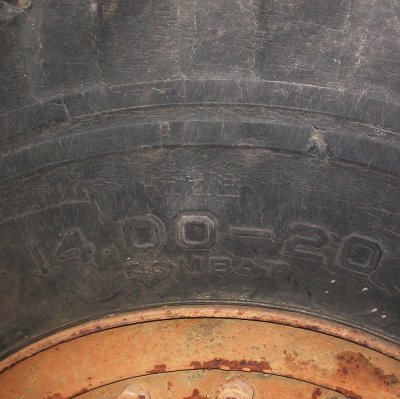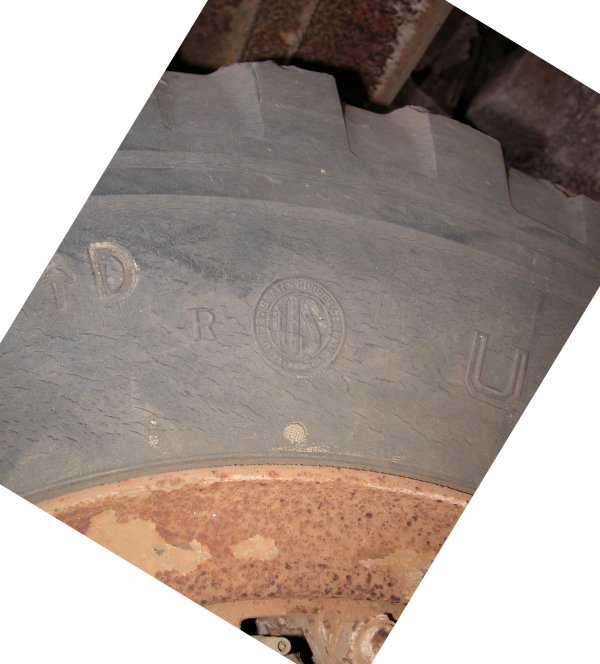 Note the yellow dot (light static balance point) on the tire, sitting there since WW-2.! Observe the well placed valve stem for better initial static balance.
Here's a close up of the logo.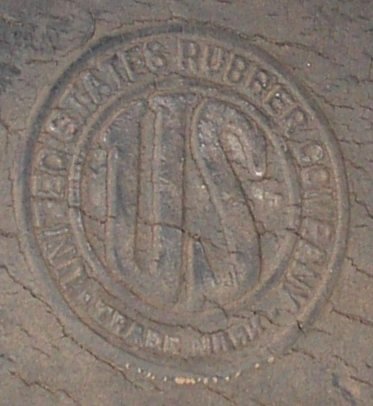 The run flat tires were so heavily made that despite 1-inch deep sidewall cracks, you could still not push a knife through to the tube.
There was no distance limit on the flat running life of the run-flat tires.
The Staghound came with a detachable compressor which could be hooked-up to either of the two engines, so that the vehicle could inflate its own tires. This could be done without tools and without opening the engine bays.



Brakes


The Staghound armored car was very advanced for its time. It had two separate Bendix HydroVacs (fore and aft) powering a twin chamber master cylinder along with twin vacuum tanks.



Steering


It also had (electrically powered - hydraulic pump) power assisted steering

Direct vision was very limited for the driver. Periscopes were used to give sideways vision.
Access to the driver/co-driver position was through one of the side escape hatches or down through the turret and out through its access hole.
Both seat backs hinged sideways, to facilitate this.



The interiors were pretty rusty. But here are two pictures I took.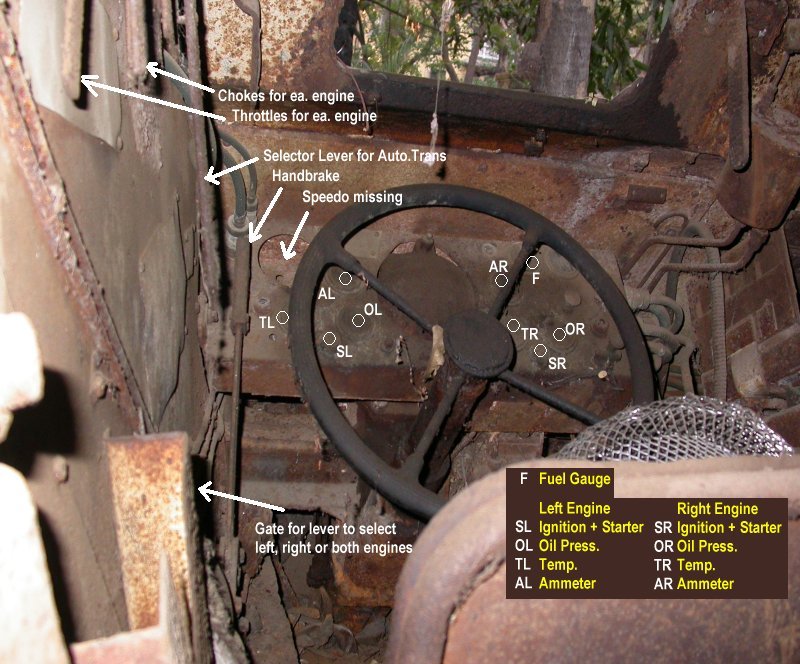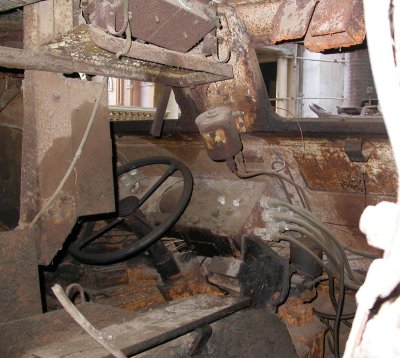 Armament


The turret of the most common version T-17E1 had a gyro-stabilized 37 mm cannon and a 0.30 calibre machine gun.
Some Staghounds had an additional 0.30 calibre machine gun in the bow. It could cancel out the up and down pitching of the nose due to rough terrain, automatically maintaining the gun pointed at the target.



The armored cars at VJTI are T-17E2 Staghounds.

These are rarer. Only 789 were produced and 4 are at VJTI, Mumbai !!

The T-17E2 Staghound had a Frazer-Nash powered anti aircraft turret, carrying twin M2HB Browning 0.5 inch calibre heavy machine guns.
A single gunner sat in the turret between the two brownings.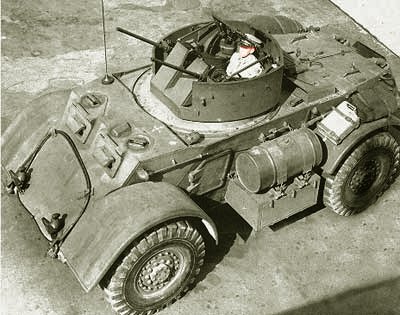 The T-17E2 was intended to be a convoy escort and ack-ack vehicle. The Browning heavy machine gun (still a current weapon) has a muzzle velocity of 890 m/s and fires ball ammunition at 450-500 rounds-per-minute fed by a belt system.



Geographic Location


The four Staghounds discussed are located at GPS coordinates: [19.0227N, 72.85582E]

All four Staghound AAs at VJTI are missing the Browning machine guns, headlights, taillights and periscopes.
Aside from the investment in cleaning and sheetmetal work needed, these four rare T17E2s at VJTI would be a military vehicle collector's dream to buy and restore.